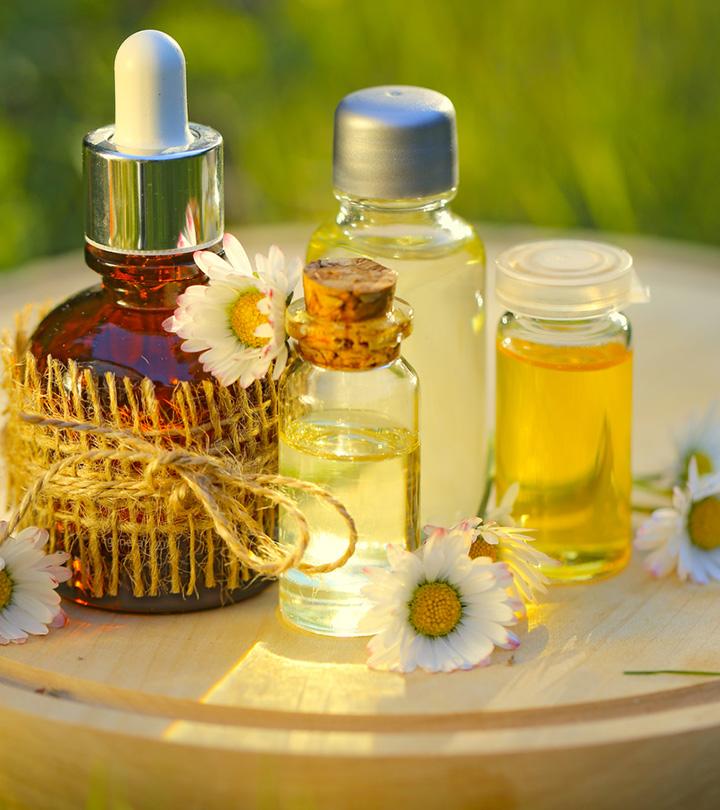 Essential oils are liquids extracted from different plant parts by various methods (1). The use of essential oils for pregnancy and associated symptoms has gained popularity as it is believed to have a soothing effect by topical use. Mothers take utmost care and spend a lot of time and effort researching and finding the essential oils that are safe for them and their babies during pregnancy. We have made it easier by listing pregnancy-safe essential oils, their benefits, and safety. So read on and make an informed decision while choosing an essential oil to aid you in pregnancy.
Is It Safe to Use Essential Oils When Pregnant?
According to the pregnancy guidelines by the International Federation of Professional Aromatherapists (IFPA), essential oils can cross the placental barrier and affect the fetus if proper dilutions are not used (2). Therefore, using essential oils judiciously during pregnancy is of utmost importance. However, scientific evidence regarding its safety is limited, as conducting studies on pregnant women is unsafe and unethical. Therefore, take expert opinions from your healthcare provider or a qualified aromatherapist before using essential oils in your pregnancy.
How Do Essential Oils Work During Pregnancy?
Essential oils, as a part of complementary therapy, are mainly used in two ways:
Aromatherapy involves the inhalation of essential oil. It can be achieved through diffusing, spritzing, direct sniffing, or steam inhalation (3). Once inhaled, they stimulate the brain and elicit various positive responses (4).
It can be achieved by mixing EOs with creams, toners, lotions, or massage oils. Essential oils in their pure form can be applied to the skin after dilution or added to warm bath water (3). Either way, they get absorbed into the superficial skin layers (5).
Quick tip
Mixing essential oils with non-greasy fractionated oils will help them disperse in water easily (6).
Essential Oils And Their Benefits During Pregnancy
Using safe essential oils to alleviate pregnancy-related symptoms may be a natural approach. Find some of the best essential oils and the benefits they might confer.
1. Lavandula angustifolia (lavender) oil
2. Mentha piperita (peppermint) oil
3. Boswellia Carterii (frankincense) oil
Reduces the intensity of labor pain (23)
4. Pelargonium graveolens (rose geranium) essential oil
Reduces anxiety during labor (26)
Massaging with a blend of geranium, cypress, and lemon added to a lotion may help support varicose veins (27)
5. Rosa damascena (rose) oil
Reduces the intensity of pregnancy-related low back pain (28)
Manages the symptoms of postpartum depression (11)
Eases the severity of labor pain (29)
6. Citrus aurantium var. Amara (neroli) oil
7. Zingiber officinale (ginger) oil
8. Citrus limonum (lemon) oil
Reduces the severity of nausea and vomiting (34)
Caution
Avoid exposure to sunlight after using citrus oil as it can cause serious burns (35).
Essential Oils To Avoid During Pregnancy
Some essential oils are not considered safe during pregnancy as they may cause adverse effects such as pregnancy loss, reproductive hormone modulation, maternal toxicity, teratogenicityiXThe ability to cause defects in the developing fetus , and embryo-fetotoxicityiXInterference in the normal growth, development and differentiation of the embryo or fetus due to alterations caused by chemical agents (36). This is an elaborate but non-exhaustive list of some essential oils and their possible side effects during pregnancy.
Essential OIlHazardAnise and aniseed myrtleReproductive hormone modulationAraucariaFetotoxic, Anti-angiogenicBasil oil (estragole chemotype)Potentially carcinogenicBitter fennelReproductive hormone modulationBlack seed (black cumin or black caraway)FetotoxicBlue cypress (Northern cypress pine)Fetotoxic, Anti-angiogenicBuchu (diosphenol chemotype)Abortifacient; HepatotoxicityCassia (Chinese or false cinnamon)Embryotoxicity, Reproductive toxicityCinnamon barkEmbryotoxicityCostusFetotoxicity, Anti-angiogenesisDalmatian sageEmbryotoxicGreen yarrow (Ligurian yarrow)AbortifacientiXThe ability to cause an abortion Indian dill seed (Sowa)HepatotoxiciXAn ability to cause severe damage to the liver , NephrotoxiciXAn ability to cause damage to the kidneys , AbortifacientLemon basilTeratogenicityLemon myrtle (Lemon ironwood or sweet Verbena tree)TeratogenicityLemongrassTeratogenicityMyrrh (Somalian myrrh)Fetal Toxicity and anti-angiogenicOreganoEmbryotoxicParsley leaf and seedAbortifacientRueAbortifacientSavinEmbryo-fetotoxic, abortifacient and hepatotoxicSpanish sage (Lavender sage)AbortifacientStar aniseReproductive hormone modulationSweet fennelReproductive hormone modulationWintergreenTeratogenic at high dosesWormwood (Absinthe)Embryo-fetotoxicity, abortifacientZedoary (white turmeric, hidden ginger)Antifertility, embryotoxicity, anti gestational and abortifacient
When Should You Avoid Essential Oils?
Essential oil use during the first trimester and in high-risk pregnancies are not encouraged by aromatherapists, and medical professionals as usage might affect the developing fetus. Therefore, essential oil usage in the first trimester should be done only under the guidance and supervision of a medical practitioner.
Precautions To Be Taken When Using Essential Oils
Incorrect usage of essential oils may cause harm in susceptible populations. Follow these precautions to ensure safety while using essential oils during pregnancy.
Dilute the essential oil to 1% or less using a carrier oil (2)
Do not add more than four drops of the essential oil when using it in a bath (2)
Ingestion of essential oil is generally not recommended (3)
Check the purity of the essential oil before purchasing. Use pure and authentic therapeutic essential oils (2)
Test for allergies using a skin test
Avoid prolonged use of essential oils (37)
Keep oils away from the flame as they are highly flammable (37)
Follow the instructions on the product label or leaflet
Use the appropriate method of application (38)
Myths About Using Essential Oils During Pregnancy
Many claims regarding the use and safety of essential oils are seldom backed by scientific evidence. Let's look at some myths and facts associated with essential oils.
MythsFactsEssential oils affect the fetusThe usage of safe essential oils in prescribed amounts does not pose a threat. Some constituents in oils can cause adverse effects only when used in higher doses (39)Essential oil affects the motherNot all essential oils are harmful during pregnancy. Using pregnancy-safe oils listed in the guidelines by IFPA may offer various health benefits (2)Frankincense oil can cause miscarriagesThere are no scientific studies that prove this claim. A study that used frankincense aromatherapy along with some dietary modifications in Iranian pregnant women showed positive results (40)Peppermint oil use could cause premature birth and also decreases milk supplyThe FDA generally considers peppermint safe and can be used as a food additive (41). Not much is known about the safety of peppermint oil during pregnancy (42)
How To Find Quality Essential Oils
As essential oil comes from different parts of the world, its quality can vary. Therefore, some important considerations before choosing an essential oil are below (43) (44).
Research the essential oil that you intend to use
Research and buy from a trusted brand or supplier
Avoid oils labeled "fragrance oil," as they are synthetic
Look for oils that are therapeutic grade
Ensure the oil of your interest is appropriately labeled and packaged
Buy oils stored in dark-colored containers
Some oils, including sandalwood and rose, are quite expensive. If you are getting them for cheap in a deal, it is a sign that it is not of good quality.
1. Is smelling essential oils safe for pregnancy?
Yes, inhalation of essential oils is considered to be the safest route (3).
2. Is it safe to diffuse essential oils when pregnant?
Since aromatherapy is considered safer than topical application, diffusing essential oils may be the safest alternative. However, it is essential to understand that moderation is the key because prolonged exposure can cause nausea, lethargy, headaches, and vertigo (37).
3. What essential oils can I use in the first trimester?
Pregnant women are generally advised against using essential oils without the doctor's consent. If directed by your physician, some essential oils can be used to treat the symptoms of nausea and vomiting during the first trimester (20).
Essential oils are plant-derived oils that offer several health benefits to pregnant women when used in recommended dosages. The chemical constituents of each essential oil help women determine the safe essential oils for pregnancy. Therefore, it's necessary to know how to differentiate between useful and harmful essential oils to avoid adverse outcomes for yourself and the fetus. Choosing a high-quality essential oil can help reap maximum benefits while ensuring utmost safety. Rather than resorting to self-care using essential oils, always take guidance from your Ob/Gyn before incorporating them into your pregnancy routine.
Key Pointers
Always dilute the concentrated essential oil to 1% or less before using it.
Ingestion of essential oil during pregnancy is not considered safe.
Use only pregnancy-safe and authentic essential oils during pregnancy.
Seek medical advice before using any essential oil during pregnancy.
References:
MomJunction's articles are written after analyzing the research works of expert authors and institutions. Our references consist of resources established by authorities in their respective fields. You can learn more about the authenticity of the information we present in our editorial policy.
Was this article helpful?The following two tabs change content below.Shinta is a biotechnologist who is highly intrigued by science and technology. She holds a master's degree in Biotechnology from Karunya Institute of Technology and Sciences and a PG Diploma in cellular and molecular diagnostics from Manipal University. At MomJunction, Shinta writes on mother and child health and wellness.  Previously, she worked as a scientist for three years, involved in…
View Profile ›